Oregon Sons of the American Revolution

The Sons of the American Revolution is the leading male lineage society that perpetuates the ideals of the War for Independence. As a historical, educational, and patriotic, non-profit corporation, we seek to maintain and expand the meaning of patriotism, respect for our national symbols, the value of American citizenship, and the unifying force of e pluribus unum that was created from the people of many nations, one nation and one people.

NEWS NEWS NEWS NEWS NEWS NEWS NEWS NEWS NEWS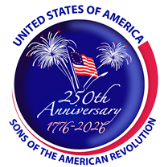 For information on the Oregon SAR
250th Anniversary of America, click on the logo on the left.
Our meetings are on hiatus for the summer.

They will return Sept 9, 2023
We are meeting again in person and by zoom at the offices of the Cascade Pacific Council, Boy Scouts of America, 2145 SW Naito Parkway, Portland. The first Saturday of each month at 10am.
The Zoom information will go out to the chapter members with all of the Zoom information a few days before the meeting.